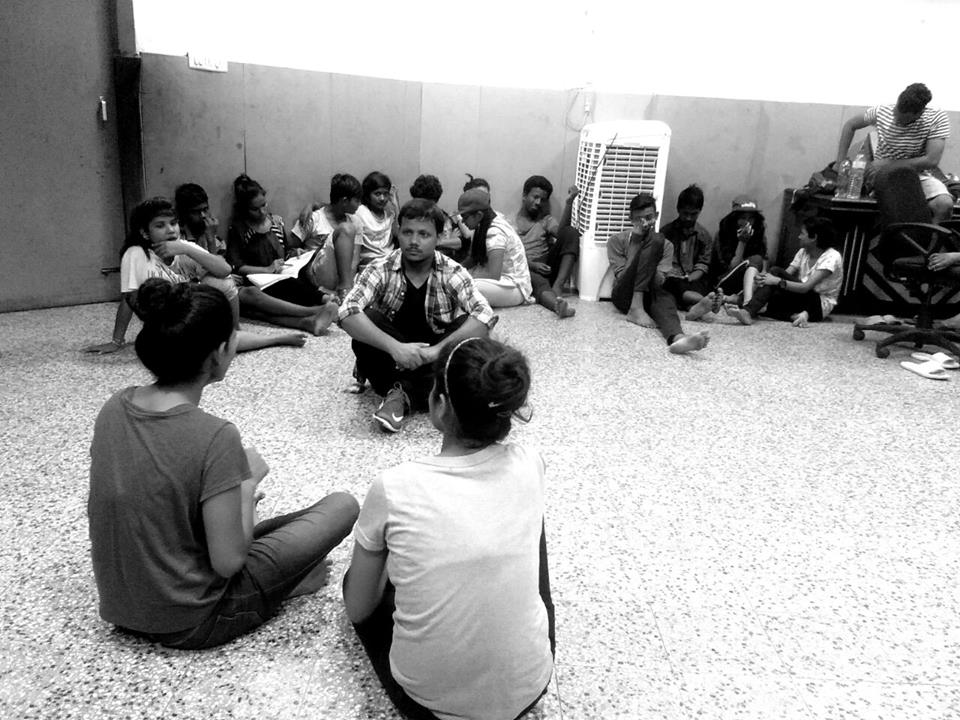 A child's heart is as pristine as the untouched glaciers of Himalayas. This world however, gets more and more toxic with each passing day. Coming from a house where violence was an everyday reality, this particular child's heart was soon contaminated with violence and the fear of being a subject to it.
Living with an alcoholic father is much too common a reality in India. Most rural households struggle with this reality and the focus remains on the women who suffer because of these men. Our story, however, is about a little boy who saw his mother get beaten up and then himself became a victim. He would run away from his home, only to come back a couple of days later. Multiple occasions of having been beaten and watching his mother succumb to the same ire, this child developed a reaction to even the thought of aggression – his hands and feet would begin shaking uncontrollably. This was his state when one night his father asked him to go away and never come back.
It wasn't an ultimatum that he was opposed to. He had been through too much already and he left that day to never return. Leaving was easy, but to know where he was to go instead was not. He travelled across the country, begging for food and shelter. Though he slept on an empty stomach from time to time, this life was better than the one he had left behind. His otherwise simple life as a vagabond came to a screeching halt when one evening while sitting on the banks of a river he saw a multitude of dead bodies floating in the river. The horror brought back everything he had left behind and fear gripped him; and with that fear, the shaking returned.
He arrived at DRMC in the year 2010, only to run away from here too. Eventually he returned in 2013. Those two years took a bigger toll on him than one would expect. He managed to cultivate a debilitating addiction to certain local drugs, which only made his recovery much harder than it already was. He couldn't sleep in the night, consequently couldn't wake up in the mornings. While he was low on energy throughout the day, thoughts of violence came to him regularly and left him shaking. Amidst this hopelessness, he started having suicidal thoughts. His dreams were infested with pain too – he had nightmares where his whole face was bleeding. He also developed a passionate dislike toward his own self – his looks, his height etc. Unfortunately, this wasn't the end of it. Any violent situation, even if it didn't concern him, continued to impact him the same way – he would uncontrollably shiver. This kind of 'domino effect' affects the mental health of many street children in their own way.
The path that he was on needed immediate intervention and so he was sent in for a clinical assessment. There he was diagnosed with Post Traumatic Stress Disorder. The next step was a triangulated approach toward his healing, with the clinicians prescribing medication, the counsellor s working through Cognitive Behavioral Therapy to deal with the self-destructive thoughts, and also educating him about sleep hygiene, relaxation and mindfulness. For his part, this child was an avid reader and helped himself by reading the book 'Dealing with Depression'. Eventually, he started playing squash and also developed an interest in performative arts, and began anchoring at various SBT events.
Coming from hurt and pain, a little child, who was one among 4 siblings had somehow started grasping at straws to make changes and live a better life. Today, this 17 year old is pursuing senior secondary education and is a state & national-level squash player. His recovery stands as a testament to his determination and will power – you can help by donating for street children like him. Visit https://www.salaambaalaktrust.com/ right away.