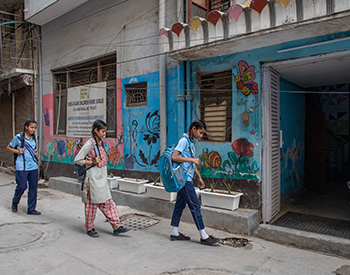 Contact Points and Community Contact Points
A segment of Delhi's population lives on the streets or in slum areas spread across Delhi. These are vulnerable children open to trafficking and abuse. Our social and outreach workers strive hard to build bonds of trust and friendship with them, their peers and families. We motivate them to attend our programmes at our many Contact Points where they have access to education, medical aid, a healthy meal, life skills, and the opportunity of realising their full potential.
Mobile School in collaboration with Children's Hope
An Abhiyan project of the government of the National Capital Territory of Delhi prompted Salaam Baalak Trust Delhi to approach urban communities to meet the existing challenges in elementary education. In 2011, SBT innovated and took our mobile school and its facilities to those who couldn't leave their locality and attend regular school programmes.
Supported by Children's Hope, the Mobile School programme covers children in the urban slum areas of Seelampur and Shastri Park. At each of its three stops, the van spends two hours in activities, including non-formal education, creative arts, counselling on health, hygiene, social skills, and child rights. At the end of each session, supplementary nutrition is provided, and a medical aid service is made available.
Our Contact Points/Day Care Centers
New Delhi Railway Station GRP Contact Point
Kishalaya Contact Point at Hanuman Mandir, Connaught Place
Yamuna Bazar Contact Point
Jama Masjid Contact Point
Praveen Contact Point
Mansarovar Park Contact Point
Mobile School Community Contact Point, Shastri Park and 2 spots
Cradle to Career Program Seelampur
Old Delhi Railway Station Contact Point