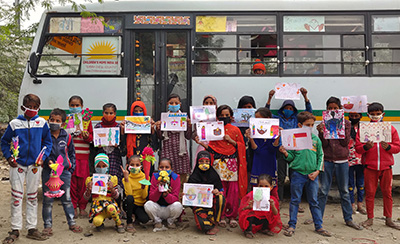 Childline - 24-Hour Child Helpline
For Salaam Baalak Trust - Childline, every phone call is important. Launched in 1998, Childline is a 24-hour national helpline for children in difficult circumstances - be it a child physically assaulted by an employer, a minor who has faced physical or mental abuse, a child in pain, or a lost child, Childline - Salaam Baalak Trust responds with alacrity and follows laid down protocol to be able to help the child within 60 minutes of the call being recorded.
SBT Serves Three Childlines
There are three Childlines that SBT serves - Central District Childline 1098, New Delhi District Childline 1098 and Old Delhi Railway Station Childline 1098.
Handling more calls than any other zone, Childline - Salaam Baalak Trust works round the clock arranging for the affected child's immediate needs. From emotional support to medical care, shelter and protection, the child is looked after before presenting a child before the Child Welfare Committee. Once the child is presented before the Child Welfare Committee and assigned to a short-stay home, Childline takes on the task of tracing the child's family. Childline - Salaam Baalak Trust creates awareness about child rights and its helpline service through open house discussions and awareness programmes conducted at various public spots in the city. Childline - Salaam Baalak Trust synchronises its work with the District Labour Department, Indian Railways, Child Welfare Committee, National Commission for Protection of Child Rights, Police, and local Non-Governmental Organisations (NGOs) working on children's issues, and other programmes of Salaam Baalak Trust.