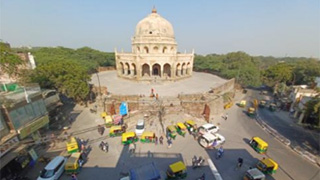 The SBT Volunteer flat is run by Dilip, who has managed the flat since 2015. The flat moved to a greener quieter area in Mehrauli, South Delhi in 2022. Dilip grew up in one of the SBT homes and is available to help you settle in to the flat and the area.
The volunteer flat is only run for those volunteering at SBT Delhi and who are staying for more than a month. It is set in a residential, non touristy area and is designed to be a home away from home. There are 3 bedrooms, 2 bathrooms with hot water, a large living area and a shared kitchen to allow self catering plus a small balcony overlooking the greenery of Mehrauli, the Mehrauli Archeological Park and the Qutub Minar. Free Wifi is included in the price. Each room can accommodate 2 people so if there are more than 3 volunteers, you may be required to share a room.
The nearest Metro station for transfer to central Delhi is just a quiet 10 minute walk away with connections to all that Delhi has to offer. Mehrauli itself has a 'village feel' and a bustling vegetable market. Most other facilities are available locally.
View more details