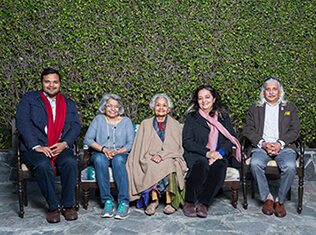 When many hands work together, even herculean tasks become simple. The collective and synchronised nature of our work has been the pillar of Salaam Baalak Trust's Delhi achievements. Making a humble beginning with three staff members, Salaam Baalak Trust Delhi has now grown into a team of over 280, united by clarity and commonality of thought and ideology.
Trustees: The Trust is headed by a Board of Trustees. They constitute an integral part of the Salaam Baalak Trust team. The Trustees of SBT do not receive an honorarium or salary yet manage to invest quality time for the children and the administration of the Trust.
Their commitment and dedication stem from their keen interest and hands-on involvement in the organisation's operations. This inspires the staff members to give their best.
The Board of Trustees leads by example through their guidance and hands-on support. They ensure their participation in weekly Saturday meetings to get a detailed understanding of the problems faced and facilitate the resolution of these issues. The Trustee team is composed of Dr. Praveen Nair (Chairperson Emeritus), Dr. Sanjoy Roy (Founder-Trustee), Ms. Gagan Singh, Ms. Geetan Batra Tejpal, Mr. Anubhav Nath, and Mr. Ashok Pal Singh.
Trustees
Dr. Mrs. Praveen Nair

Chairperson Emeritus

Dr. Praveen Nair is a Founder Trustee of SBT. Her daughter, Mira Nair's film Salaam Bombay brought forth the harsh life of children living on the streets and motivated Ms. Nair to bring a difference to the lives of children living on the streets.

Her involvement in the development sector spans six decades during which she spent a considerable amount of time in Odissa and headed various development related committees for Red Cross, DAV Public School and Deaf and Dumb Association - reaching thousands of children and families.

She has been a passionate advocate of street and working children's rights in various policy and legislative forums of Delhi. Her intensive involvement in SBT's operation has helped in the formulation of child-centric policies and programmes.

Ms Nair's contribution to the sector was recognised by the President of India when SBT was awarded the National Award for Child Welfare in 2011.

Dr. Sanjoy Roy

Founder-Trustee

Sanjoy Roy is the Managing Director of Teamwork Arts, a highly versatile production house with wide ranging interests in the performing and visual arts, social sector, and films and television. An alumnus of St. Stephen's College, New Delhi and has received the National Award for Excellence for Best Documentary and Best Director for the film 'Shahjahanabad'.

He is a Founder Trustee of SBT, and his creative pursuits have enabled SBT to integrate performing arts and theatre as one of the core programmatic components.

Ms. Gagan Singh

Gagan Singh is a Consultant with Anarock Property Consultants Pvt Ltd where she heads the Cultural, Ethics, CSR, and Diversity initiatives of the company. She was the CEO of Benetton India and Jones Lang LaSalle India before she opted for retirement in 2017. A chartered and cost accountant by training, Gagan has enormous experience of resource and financial management of corporate entities. She joined SBT as a Trustee in 2002 and has been the driving force behind the formalisation of SBT's financial and human resource policies and programmes. Gagan greatly contributes to the adoption of well-designed and structured budgetary, auditing, and recruitment processes at the Trust that has helped in ensuring transparency and accountability in fund utilisation and financial transactions.

Under Gagan's guidance, the financial systems at SBT have become more organised and streamlined, and it is possible for the accounts department to provide specific details of fund allocation and utilisation under any and every programme of the Trust. A firm believer in women's empowerment, Gagan participates in formal mentoring of potential women. She is an independent director on the boards of Timex Group, India and Future Retail Ltd.

Gagan is married with two daughters who are pursuing corporate careers. Gagan loves theatre and spending time with her grandchildren.

Ms. Geetan Batra

Geetan Batra has had many careers spanning multiple ranges of interests and opportunities. A postgraduate in English Literature from Punjab University, she started as a journalist with Indian Express and then went on to become the editor of the leading genre magazine, Indian Design and Interiors. Moving away from the media, she worked on several national and international art projects, involving traditional artisans and craftsmen.

Understated and deeply empathetic, she joined as an SBT Trustee in 2010 and is deeply involved with multiple aspects of SBT's functioning, including children, staff, programmes, and services. Her sensitive and caring attitude has enabled children and staff to establish strong bonds with her. She also plays a critical role in the review of SBT's publications and reports, owing to her literary and documentation rigour.

Mr. Anubhav Nath

Anubhav Nath is the Director of Ojas Art. He graduated from the University of Southern California, Los Angeles. He volunteered at SBT for five years before joining as a Trustee in 2013. His keen interest in arts has helped in fine-tuning the arts and vocational training programmes at SBT.

Anubhav actively participates in the planning and formulation of new strategies to make existing organisational practices more effective and efficient. In 2011, India Today magazine recognised him as a young change-maker of Delhi, in context to his voluntary work at Delhi's Tihar Jail. Anubhav is also a Trustee of the Ramchander Nath Foundation and looks after a rare collection of vintage automobiles. He has written on art for various publications in India and overseas.

Mr. Ashok Pal Singh

Ashok Pal Singh is a former civil servant. His experience in government spans the social, health, finance, postal, telecom, and technology sectors. Among the many reforms he is associated with, the National Pension Scheme, the Child Helpline, networking the post office, the Rural Health Mission, Aadhaar, and establishing the India Post Payments Bank stand out.

Currently, he advises the Unique Identification Authority, the National Health Authority, UPSC, the Capacity Building Commission, the World Bank, and a host of young entrepreneurs. His opinion pieces on public policy appear in national dailies.
Executive Council
Dr. P. N. Mishra

With a Doctorate in Sociology, Dr. Mishra has completed 26 years at SBT. Dr. Mishra has expertise in community mobilisation and training on the legalities of child rights. He has trained over 200 police officers and judges on the JJ Act in various states of the country. He has exceptional skills in data management and analysis.

Mr. A. K. Tiwari

An alumnus of Banaras Hindu University, Mr. Tiwari has a Master's degree in Social Work. He has been in SBT for over 26 years. A favourite among the children for his care and constant support, Mr. Tiwari is also looked up to as a father figure for many. An expert in project implementation, he enjoys advocating the rights of children at various forums. He also carries the banner of SBT's Arts programme.

Ms. Shikha Maini

She is a part of the Salaam Baalak Trust family for the past 12 years. Initially, she joined as a psychologist intern and today, she is a part of the Executive Council. She has a Master's degree in Psychology and is a certified arts-based therapist.

Having a lot of experience in dealing with and understanding mental health issues of children and adolescents, Shikha makes sure to comprehend issues at the earliest. She has a strengths-based approach and believes that every child has a spark.
Coordinators: A specialised team of coordinators operate under the supervision of the Executive Council. Every Residential Centre and Contact Point is run by coordinators with the help of dedicated teams. Similarly, specific programmes viz., education, sports, mental health, and Childline are also implemented by coordinators.
Fundraising: The funds for our ongoing projects are raised by our Fundraising team headed by Tanya Alag. Funds are raised from Individuals, Foundations, CSR, Corporates, MNCs, Trusts, Fundraisers etc.
The Team: Apart from the management, the SBT family encompasses a trained and experienced cadre of social workers, medical social workers, teachers, accounts personnel, administration staff, counsellors, tour guides, drivers, and housekeeping staff. SBT is grateful to the specialised team of consultants whose expert guidance is critical to the growth of children and the Trust.
A special mention to all the volunteers, who dedicate their time and share their skills for the welfare of our children.