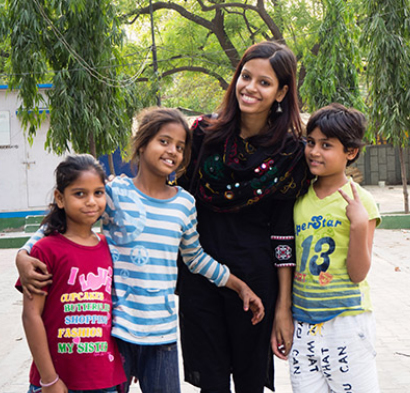 Volunteers
Volunteers across the globe give their time, talent and support to teach a skill, participate in various activities, or share the workload of our staff. Over the years, volunteering and internship have evolved into a structured programme at Salaam Baalak Trust. Volunteers need to commit to a minimum of four weeks, to achieve continuity and tangible outcomes. The programme begins with an induction of the volunteers to Salaam Baalak Trust programmes and services, followed by matching the profile (skills) of the volunteer with the current needs of the organisation, to commence the volunteering period. Volunteer activities are concurrently assessed and a final evaluation marks the closure of a volunteer's work. This well-planned strategy makes volunteering a productive exercise for the volunteers and the organisation rather than a mere series of sporadic efforts. Salaam Baalak Trust attaches value and significance to a volunteer's engagement with various facets of the organisation, such as teaching English, training tour guides with communicative skills, marketing the City Walk, documentation, teaching school subjects, non-formal education, computers, theatre activities, and counselling, among others.
Why Volunteers
Volunteering at Salaam Baalak Trust can be a life-changing experience. Our volunteers come from all over the world and have contributed in creative ways to impact the lives of the children we work with, from teaching English to starting Hip-Hop classes with a group of our boys.
Here, at Salaam Baalak Trust, we appreciate that the diverse backgrounds and perspectives of volunteers can be of enormous benefit to our children and our staff. What's more, we know that as a volunteer here, you will learn a lot too - not only about yourself but also about the Indian culture and the people and issues that we work with every day.
So if you want to make a difference in the lives of children who need it most, please continue reading and contact us with any questions.
Join As Volunteer
Volunteering Opportunities
Testimonials From Across The Globe
We're proud to have an ever-increasing volunteer community that has created a positive impact on the children and helped make a difference. The volunteers have generously contributed through varied innovative roles and fulfilled requirements with unique solutions.