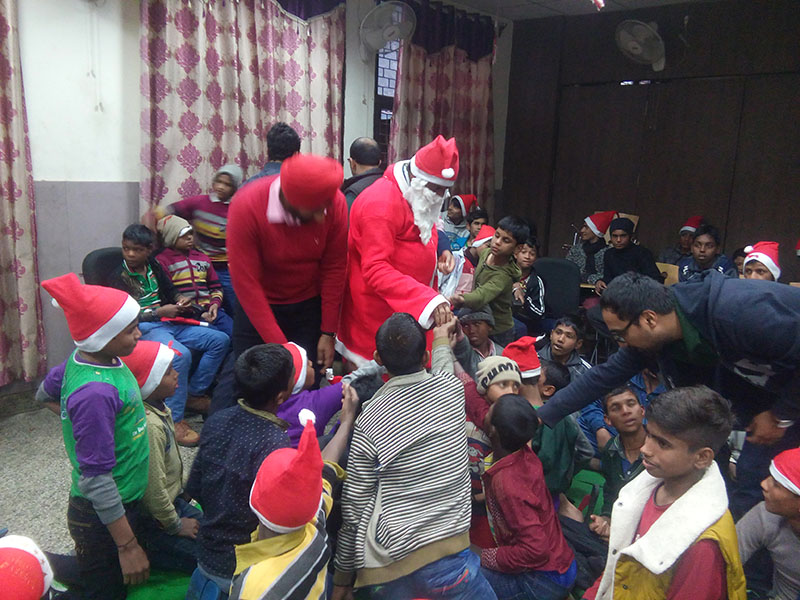 It's cold outside, and it's the festive season – when friends and family scurry in and out of the house. There is an air of excitement and fun all around. Each one of us wants to bring warmth and cheerfulness into the world – it's at this moment that we can resolve to share goodies with that cold little child on the roadside selling a Santa cap to you! It's precisely with children like these that Salaam Baalak Trust works. 
Christmas reminds everyone of all the wonderful privileges their lives are blessed with. There is so much to be grateful for, from necessities to luxuries, most of us have utilities (and innumerable other items) in abundance. We share these with our near and dear ones, spoil them silly with choicest of gifts and try to outdo ourselves year after year.
This Christmas, do something different – look for the less privileged who struggle for survival. Street and working children are vulnerable to many risks – imagine, would you let your 6-year-old cross a busy road on her own? Would you let your child walk barefoot on a cold winter day out in the open? Children on the streets require constant guidance and resources to get back on their feet and reconnect with the society as responsible and aspiring citizens. To help them in this endeavour, it is essential that during festivals like Diwali, Christmas and New Year's, street children are not forgotten, and consciously included in celebrations and joyous gatherings.
Participate in Distribution Drives – This is a great way to help empower children who are still living on the streets. One can also connect with non-profit organizations like Salaam Baalak Trust that offers a safe shelter (Children's Homes) and wholesome meals, besides other programs that are essential for the education of street children.
SBT celebrates Christmas with children at all of the Children's Homes and engages them in fun-filled activities. During festivals, many volunteers connect with Salaam Baalak Trust to visit the centre and celebrate the day with them. They brighten their lives and add some spark and joy by donating toys and meals.
Salaam Baalak Trust was started from the proceeds of Salaam Bombay (Directed by Mira Nair), an award-winning film that is based on the lives of street children in Mumbai. This film germinated the concept of building SBT that was founded in 1988 with three staff members and 25 children. Today, there are over 9000 children who are helped annually.
You can also join in and donate for children's education this Christmas, and make a difference.