How to help us > Volunteers > Why Volunteer?
Why Volunteer?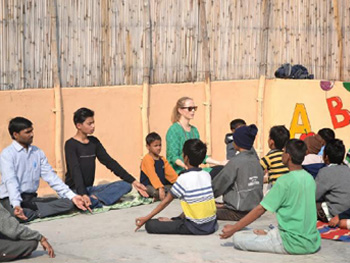 SUMMER PROJECT LIST available with specific placements in all areas including TEACHING MUSIC CLASSES! Email the Volunteer Coordinator volunteer@salaambaalaktrust.org for more information.
Volunteering at Salaam Baalak Trust can be a life-changing experience. Our volunteers come from all over the world and have contributed in creative ways to impacting the lives of the children we work with, from teaching English in NFE schools to starting Hip-Hop classes with a group of our boys.
Here at Salaam Baalak Trust we appreciate that the diverse backgrounds and perspectives of volunteers can be of enormous benefit to our children and our staff. What's more, we know that as a volunteer here you will learn a lot too - not only about yourself, but also about the Indian culture and the people and issues that we work with every day.
So if you want to make a difference in the lives of children that need it most, please continue reading and contact us with any questions.

Profile of the 'ideal' SBT volunteer

A volunteer at SBT should be someone who is:
Interested in working with children and inspired by their spirit of survival.
Creative and innovative, coming up with unique solutions on-the-spot.
Generous and has a desire to give - not only time but thoughts, talents and skills.
Flexible and independent, adapting to new environments easily and working within obvious resource constraints.
Hard-working, and follows ideas through to implementation.
For more details about Volunteering and internship activities, please contact us at volunteer@salaambaalaktrust.org