How to help us > Volunteers > Volunteering Opportunities
Volunteering Opportunities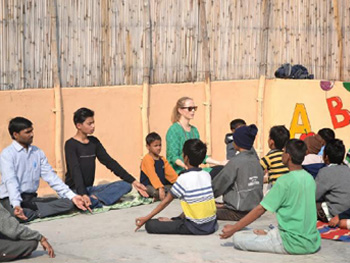 Life Skills Education & Nonformal Education
One of the types of education provided by SBT is nonformal education (NFE). NFE not only deals with everyday subjects like maths, reading and writing, but also emphasises skills like cooperation, teamwork, sharing, time management, self awareness, and creative thinking to name but a few.
This is an important way of teaching the types of children that SBT works with, and volunteers can contribute by creating fun, engaging, and interactive ways to impart these lessons. For examples, take a look at our volunteer archive.
Creative Expression, Sports, and Talent Development
SBT is full of aspiring actors, artists, sports-stars, dancers, and singers! Activities in these areas offer children alternative ways of expressing themselves and are of great value to the organization. Like nonformal education, these activities are also another way of learning for the children. If you have an interest in any of these areas or in any other type of creative expression, we encourage you to contact us to explore possibilities.
Computers and Multimedia
Our children and our staff are always keen to improve their skills in computing. We have at least three computer labs available at SBT, one of which has internet access. Volunteers are needed to teach a range of computing concepts, from the basics of creating a folder to more complex things like Microsoft Office tutoring.
In addition to computing, past volunteers have conducted photography workshops and have brought ideas in other areas of multimedia.

If you have an interest in any of these areas we encourage you to contact us.
Documentation, Marketing, & Communication
Sometimes people want to volunteer their time to our organization but are not comfortable teaching in a classroom. Volunteers also tend to think that teaching is the only way they can have a positive effect on our children. But SBT needs help behind the scenes too!
Many of our programmes need additional support in documenting their work in an effective, user-friendly way. In supporting this, individual case-studies on children are needed and databases need to be created and upgraded in order to store all of this information.
SBT also appreciates help in marketing its various programmes. We are always looking for creative ways to raise awareness of our activities, particularly with things like City Walk and with the volunteer programme itself.
Formal Education Tutoring
Many of our children partake in formal education in institutions outside of SBT. These children often need help in various subjects such as English, maths, science, Hindi etc. Volunteers are always welcome in all of these areas, not just English.
Medical Health & General Healthcare
The health of the children that we work with is one of our primary concerns here at Salaam Baalak Trust. We have an onsite doctor at our GRP contact point near the railway station, as well as having doctors regularly visiting all shelter homes and contact points and performing check-ups on the children.
Volunteers with medical expertise (students or qualified) are always welcome to help with check-ups, as well as with record-keeping, inventory maintenance, and the training of medical staff.
Internships
Internships in any of the above areas are also available. For such a placement the interested party will take on greater responsibility and will be expected to achieve certain predefined goals while at SBT. For more information on this position, contact at volunteer@salaambaalaktrust.org.
If you feel you can help out in any of these areas then please contact us.