What we do > Outreach and Community Projects
Outreach and Community Projects
Contact Points and Community Contact Points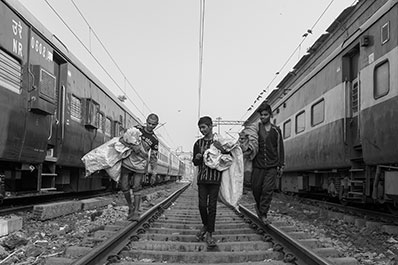 A segment of Delhi's population lives on the street or in slum areas spread across Delhi. These are vulnerable children open to trafficking and abuse. Our social and outreach workers strive hard to build bonds of trust and friendship with them, their peers and families. We motivate them to attend our programs at our many Contact Points where they have access to education, medical assistance, a healthy meal, life skills and the opportunity of realising their full potential.
Childline - Salaam Baalak Trust
For Salaam Baalak Trust - Childline, every phone call is important. Launched in 1998, Childline is a 24-hour national helpline for children in difficult circumstances, be it a child physically assaulted by an employer, a minor who has faced physical or mental abuse, a child in pain, or a lost child, Childline - Salaam Baalak Trust responds with alacrity and follows laid down protocol to be able to help the child within 60 minutes of the call being recorded.
Three Childline - SBT now serves across two districts and one railway station covering Central, New Delhi district's and Old Delhi Railway Station.
Handling more calls than any other zone, Childline - Salaam Baalak Trust works round the clock arranging for the affected child's immediate needs, ranging from emotional support to medical care, shelter and protection, before presenting a child before the Child Welfare Committee. Once the child is presented before the Child Welfare Committee and assigned to a short stay home, Childline takes on the task of tracing the child's family. Childline - Salaam Baalak Trust creates awareness about child rights and its helpline service through open house discussions and awareness programmes conducted at various public spots in the city. Childline - Salaam Baalak Trust synchronises its work with District Labour Department, Indian Railways, Child Welfare Committee, National Commission for Protection of Child Rights, Police, local Non-Governmental Organisations (NGOs) working on children's issues, and other programs of Salaam Baalak Trust.
Mobile School in collaboration with Children's Hope
An Abhiyan project of Government of National Capital Territory of Delhi - prompted Salaam Baalak Trust to approach urban communities to meet the existing challenges in elementary education. In 2011, SBT innovated and took our mobile school and its facilities to those who couldn't leave their locality and attend regular school programs.
Supported by Children's Hope, the Mobile School program covers children in the urban slum areas in Seelampur, and Shastri Park. At each of its three stops, the van spends two hours in activities including non-formal education, creative arts, counselling on health, hygiene, social skills, and child rights. At the end of each session, supplementary nutrition is provided, and a first aid service is made available.
Our Contact Points
New Delhi Railway Station GRP Contact Point
Kishalaya Contact Point at Hanuman Mandir, Connaught Place
Yamuna Bazar Contact Point
Jama Masjid Contact Point
Praveen Contact Point
Mansarovar Park Contact Point
Mobile School Community Contact Point at Shastri Park
Mobile School Contact Point at Seelampur
Old Delhi Railway Station Contact Point
Ghaziabad Railway Station Outreach through Child Help Desk (CHD)
Key Services at Contact Points and Community Contact Points
Reaching out to children in difficult circumstances;
Counselling children to return to their families and helping trace them;
Peer education programme provides an interface between new arrivals and children having a long association with SBT; the older children talk about their journey from the streets to SBT. This creates a sense of common identity and empathy between the old children and the new, resulting in many children consenting to regularly visit our Contact Points;
Providing nutrition, clothing and basic hygiene;
Education: Non-formal, formal and open school
Creative Arts Program to Realise the Talent of these Children
Comprehensive medical support;
Counselling and referral to drug addiction programmes;
Creating awareness on child rights and promoting adherence;
Fostering a sense of communal harmony and an awareness of other religions through observance of all major festivals;
Sensitisation of key stakeholders;
Networking with authorities such as law, enforcement agencies, local civic bodies and railways;
Sensitisation of adults who live on the streets with their children.