Who we are > Our history
Our history
"Salaam Bombay!" Movie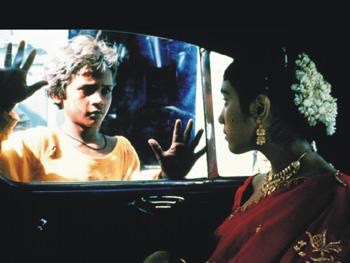 In the 1980s, the making of Mira Nair's 'Salaam Bombay' (award winning film) revealed the dark underbelly of Mumbai's streets, where several childhoods were at stake. A combination of socio-economic exigencies, political circumstances and parent's struggle for survival created a large population of children, living and working on the streets of India. As all across the country street children, an invisible section of the society, continued an invisible struggle on the streets of Delhi too. In the day time, children grapple with the challenges of street life.

When night falls, they curl up in crevices - at the end of the platform, under a staircase, in the subway - where the possibility of security exists. Ms Praveen Nair, Chairperson and Trustee at Salaam Baalak Trust testifies: "It took us quite a while to break the ice with the boys... Sanjoy (Roy) and myself would scout the railway platforms every day, chat with the boys...however they had been cheated time and again, and we weren't the first to propose help...so they would laugh off our intentions but we never gave up....Finally when we answered their urgent call for help to care for a terribly sick boy, a friend of theirs, began the never-ending bond..." Spending quality time with these children, the founding members of the Trust realised that while most of these children were forced into these circumstances, many of them had chosen this life; what set them apart, was their chutzpah, their spirit. Ms Nair adds: "We started with the idea of donating blankets to the children in the bitter winter cold. We started at the very place where GRP centre now stands. However, we proved naíve about their actual needs. The children told us that sleeping under a blanket invited sexual attentions from older children. They stuffed newspapers and wore layers of clothing (all the clothes they possessed, actually) this not only kept them warm but also kept the clothes from being stolen! That's when we realised children needed a roof over their heads and safe spaces."

From three staff and 25 children on a balcony of the Ground Reserve Police at the New Delhi Railway station more than 28 years ago, we have now grown to over 200 staff, providing support services for over 8,500 children a year in Delhi & the NCR region through our 25 centres. Over the years, Salaam Baalak Trust has successfully worked with over 72000 children; significant numbers have been restored to their families. We have 2 children who have completed their engineering and one boy who is currently pursuing engineering, 3 who have completed their Masters in Arts programme, 7 who have won scholarships for advanced programmes to American Universities, 30 in an Australian affiliated University, and many more who are pursuing their academic career in schools and colleges across India.
Awards won by "Salaam Bombay!" movie
Audience Award Cannes Film Festival
1988
Golden Camera Cannes Film Festival
1988
National Film Award for best feature Flim in Hindi
1988
National Film Award for best Child Artist Shafiq syed
1988
National Board of Review Awards Top Foreign Flim
1988
Jury Prize Mootreal World Film Festival
1988
Most Popular Film Mootreal World Film Festival
1988
Prize of the Ecomenical Jury Mootreal World Film Festival
1988
Lillan Gish Award Excellence in Feature Film Los Angeles Women in Film Festival
1988