Mental health Programme:
Salaam Balaak Trust has been addressing the needs and problems of street and working children belonging to different age groups and diverse backgrounds. But over the years it was realized that, apart from addressing the physical, educational and material needs of these children, efforts should also be made to address the mental health needs and problems faced by these children as a consequence of the diverse backgrounds and more often than not traumatic experiences that they have to undergo. Apart from this, it was also felt necessary to address the needs of growing children and adolescents. Keeping this in mind the Mental Health Programme was set up in February 2003. It started with a core group of 4 members, headed by Dr Amit Sen, (MD- Psychiatry, MRC Psych, London; Specialist, training in Child & Adolescent Psychiatry, UK). The Mental Health Programme encompasses a Preventive Programme that works through the formation of groups and the early identification of cases in order to help the children while going through the transition or stressful phases. This Programme also attempts at training and supervising the staff at Salaam Baalak Trust and its various centers to enhance their counseling skills and mental health education in order to enable them to identify cases, refer them, intervene in a suitable approach and then document those cases in turn facilitating the growth and development of the children through specialized and individualized care to each and every child.

Individual counseling and group sessions:
The children get a friend to listen to and help them deal with their dilemmas through a professional full time counselor. It caters to their lost need of being heard or appreciated. The counselor takes care of individual case studies and conducts interesting group activities with the children. It is one of the prime components of the Organization to understand a child's mind and address every neglected corner of the child.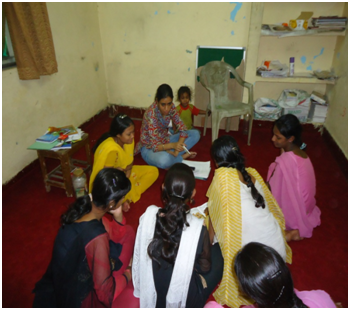 Life Skills education:
Includes enhancing the day-to-day life decision taking ability and providing livelihood options through vocational training, education and job provisions. We have full time life skills co-coordinator employed with SBT. Structured modules and guidelines are prepared to strengthen the activities, with assistance from respective coordinators & counselors.