What we do > Inclusion through education
Inclusion through education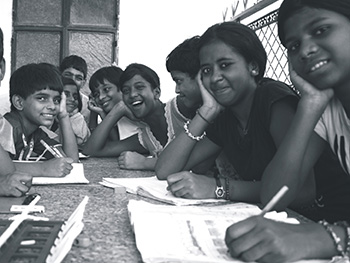 Salaam Baalak Trust believes that there is no instant solution for children who have been denied their right to education. However, we are charged with the imperative that there is no higher priority, no mission more important, than that of education. Education of children at SBT has to be need-based and demand-driven. To fulfil these criteria, the trust employs various schemes of educational intervention, both formal and non-formal. Wherever possible, the objective is to bring children into mainstream education. The overriding goal, though, is to help children develop into informed, capable, and responsible citizens of our nation and the world. To these ends we variously engage with the National Institute of Open Schooling (NIOS), formal schools, non-formal education, and bridge courses.
National Institute of Open Schooling (NIOS)
National Institute of Open Schooling is a national scheme for open learning to which Salaam Baalak Trust was accredited in September 2000. Salaam Baalak Trust has developed innovative syllabi for levels A, B, & C (equivalent to grade 3rd, 5th, & 8th) with the help of NIOS. Originally intended for Salaam Baalak Trust children, these courses are available to other young learners as well, providing an alternative route to educational attainment or higher education. Since the accreditation to NIOS,  over 650 children, including more than 150 girls, have passed NIOS (basic) exams.
Formal Education
Ideally, Salaam Baalak Trust would like to channel every child into mainstream education. Formal education enables children to interact with their peers from diverse backgrounds. It also helps instil a sense of accountability, positive competition and the desire to excel. Salaam Baalak Trust children are admitted into both, private and government schools of repute. So far in 28 years, the Trust has been able to mainstream 9592 children in various classes.
Non-Formal Education
Non-formal education at Salaam Baalak Trust takes care of children's individual educational needs. The primary goal of this program is to motivate and prepare children to gain admission into formal school. Also it imparts life skills to cope-up with their circumstances. The non-formal education focuses on interesting and interactive learning through a participatory approach. A wide range of techniques are employed under the program, including painting, games, story, telling, papier mache, songs, quizzes, bachchon ki adalat etc.
Bridge Education/ Course
Salaam Baalak Trust also provides bridge courses to those children who have suffered breaks in their formal education. The programme provides intensive coaching to such children, aiming to help them re-join formal schooling in a class appropriate to their age.


"Education is not the answer, but education linked with livelihoods is the answer for street children."

Ms. Praveen Nair, Chairperson and Trustee

"Many of our children who have passed out of Salaam Baalak Trust and are doing well in their professional life contribute in different ways to support Salaam Baalak Trust work. Some make donations during annual days and annual plays, while others render their services to train our children in dance and dramatics. It is satisfying to see an evident feeling of giving back to Salaam Baalak Trust among our children. Keeping the association with older children intact is one of the greatest achievements of our rehabilitation programme."

Mr. A.K. Tiwari, Executive Council member

"Central Queensland University Australia has been a partner with Salaam Baalak Trust since 2011. Central Queensland University is currently sponsoring the 'Walk into the street life of Delhi' and provides scholarships for students to attend a tertiary education institution in India. Central Queensland University is an organization that gives back, so too is Salaam Baalak Trust. The University has a distinct moral, ethical conscience and a strong ethos of philanthropy and humanity that inspires our students, staff and communities, including those overseas, to make them better places to live, work and learn. Just as Salaam Baalak Trust transforms the lives of children through education, shelter and care, Central Queensland University also engages with many people who are often forgotten by others."

Prof. Scott Bowman, Vice-Chancellor & President, Central Queensland University, Australia