What we do > Full care residential programme
Full care residential programme
Contact Points and Community Contact Points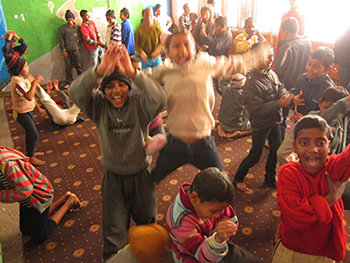 Contact Points (CPs) are day centres which follow the dictum 'earlier the better'. As the name implies, Contact Points are located at railway stations and crowded places, and act as primary links to identify vulnerable children as soon as they arrive in the city. Contact Points not only work with children 'of the streets' but also with children who are 'on the streets' - living on streets with their families and surviving by begging or ragpicking. Over the years, Community Contact Points have also been established in slum pockets of Delhi such as - Akanksha and Mansarovar park, where there is a large population of children at risk of becoming street children.
Life on the streets generally renders children aggressive and emotionally frail, due to lack of care and protection. Contact Point teams fill this void with their warmth and sensitivity. After a medical check-up and medical aid when needed, the team attempts to trace the child's family and understand his/her history. Restoration to the family is always the first choice, but sometimes it is not feasible, or not in the child's best interest, when the child is likely to be abused, exploited or neglected at home. In such cases, the child is encouraged to join a full-care residential centre after being referred to a Child Welfare Committee (CWC). Children living on streets with families and at-risk children are motivated to become regular visitors at Contact Points through a peer education program and the dedicated efforts of Contact Point teams. The team members build a strong rapport with these children by lending them a patient hearing which gives them a feeling that someone cares for them and has the time to listen to their stories. Education and play become major pullers for children to sustain their involvement at Contact Points.
Key services at Contact Points and Community Contact Points
Reaching out to new children;
Counselling children to return to their families and helping trace them;
Peer education programme provides an interface between new arrivals and children having a long association with SBT; the older children talk about their journey from the streets to SBT. This creates a sense of common identity and empathy between the old children and the new, resulting in many children consenting to regularly visit our Contact Points;
Providing nutrition, clothing and toilet facilities;
Education: non-formal, formal and open school;
Comprehensive medical support;
Counselling and referral to drug addiction programmes;
Recreational facilities: art and craft, music, outdoor and indoor games, local excursions, and annual holidays in the hills;
Creating awareness on child rights and promoting adherence;
Fostering a sense of communal harmony and an awareness of other religions through observance of all major festivals;
Sensitisation of key stake holders;
Networking with authorities such as law, enforcement agencies, local civic bodies and railways;
Sensitisation of adults who live on the streets with their children;
Restoring children back to their families.
List of Contact Points
New Delhi Rly Stn GRP & Platform Contact Point
Kisalaya Contact Point at Hanuman Mandir, Connaught Place
Shiva ji Bridge Contact Point
Inner circle Contact Point at Connaught Place
Akanksha Contact Point at Pratap Nagar
Yamuna Bazaar Contact Point
Jama Masjid Contact Point
Kashmere Gate Contact Point
Kiran at Kailash Nagar Contact Point
Usmanpur Contact Point
Mansarovar Park Contact Point
Shastri Park Contact Point
Govind Puri Contact Point
Taimoor Nagar Contact Point
Sriniwas Puri Contact Point
Khirki Village Contact Point
Subhash Camp Contact Point
Sanjay Camp Contact Point
Vasant Kunj Contact Point
Akanksha
Salaam Baalak Trust runs an outreach programme in slums neighboring its area of operation. Established in 1993, the programme aims at preventing young residents of the area from becoming street children. A major component of the outreach is education, both formal & remedial. Today, over 80 boys and girls between 6 and18 are educated under the programme; school-going children attend formal coaching classes, whereas drop-outs are encouraged to join the NOS system. Children unable to go to school receive non-formal education. Children below 6 are helped to prepare for school through the Play way method. Salaam Baalak Trust also helps empower the women of these areas, thus hoping to improve the overall quality of family life. Some of the interventions in this area include adult education; community development; and health and awareness programmes covering family planning, HIV/AIDS, Personal Hygiene, Child Rights and Women's Rights.
Full care residential centers / shelter homes
Oblivious to the perils of crime, sexual abuse and economic exploitation, hundreds of children leave their homes in the quest for a better life. Set up with a firm belief that a threatening environment seriously impairs children's freedom of expression and capabilities, SBT's full care residential centres intend to fulfil this lacuna by providing children a secure, caring and nurturing environment. A safe place to sleep, a space for personal belongings, a regular rhythm for food, study, play and sleep, and most importantly the feeling that "I am protected and no one will harm me" can do wonders for children.

Each child staying in the residential centres is treated as a unique individual, with specific needs, individual care plans are formulated focusing on specific needs of children. The plans also record strategies to meet these varied needs. Hence, a composite of multifarious services are rendered for holistic development of children in full care residential centres. However, the most unique component of SBT's work with children remains the creation of a stimulating environment. Latent talent development, sports and outings form an integral part of this environment. Children often come at a very young age and stay with SBT till the time they attain maturity. These years in a secure environment transform lives-not only from a child to an adult but from a dependent to an empowered individual.

Salaam Baalak Trust has six full care residential centres: Aasra, Apna Ghar, DMRC Children Home and Old Delhi Railway Station (ODRS) for boys, Aarushi and Udaan Rose for girls. A striking feature of these residential centres remains that they were set up to address the differential needs of children, as follows.
ODRS & Apna Ghar is a drop-in shelter catering to the needs of street children coming for a short stay;
Aasra and DMRC house boys coming in for both short-term and long term stay.
Arushi was opened to address the accentuated vulnerabilities of girls to sexual abuse and exploitation at railway stations and lonely streets.
The need to have a home for girls in Delhi led to the establishment of Rose Home for Girls in Dwarka now shifted to Najafgarh and is known as Udaan Rose Home
Contact information of Salaam Baalak Trust's shelters:

Arushi Home
819- Sector 21, Pocket E
Gurgaon, Haryana
Tel:- +91-124-2365366
Capacity of the children: Girls - 50 DMRC Home
Children Home, Metro Pillar No. 65
Bhargava Lane, Tis Hazari, Delhi 54.
Tel:- +91-11-23831160
Capacity of the children: Boys - 100 Aasra Home
DDA Community Centre - 2nd Floor,
Chandiwali Gali, Paharganj,
New Delhi-110055
Tel:- +91-11-23586416
Capacity of the children: Boys - 50 UdaanRose Home
Plot No. 66-67, MS Block, Ranaji Enclave
Najafgarh, New Delhi
Capacity of the children: Boys - 100
Capacity of the children: Girls - 75 ODRS Open Open Centre
Rita Building, IInd Floor
3903 Himalton Road
Near HDFC Bank
Delhi-110006
Capacity of the children: Boys - 25 Apna Ghar open shelter
DDA Community Centre - 2nd Floor,
Gali No.11, Multani Danda, Paharganj,
New Delhi-110055
Tel:- +91-11-23681803
Capacity of the children: Boys - 25

"Sanjoy (Roy) and I (Mrs. Nair) started with the idea of donating blankets to the children in the bitter winter cold. We started at the very place where Government railway police centre now stands. However we proved naïve about their actual needs. The children told us that sleeping under a blanket invited sexual attentions from older children. They stuffed newspapers and wore layers of clothing (all the clothes they possessed, actually) this not only kept them warm but also kept the clothes from being stolen! That's when we realized children needed a roof over their heads and safe spaces."

Ms. Praveen Nair, Chairperson and Trustee

"Often, children would be rescued from child labour or other difficult circumstances and need immediate shelter. It was always easier for us to arrange for their stay, as Salaam Baalak Trust had fully-functioning shelter homes for boys and girls"

Mr. Praveen Jha, Coordinator, Childline