City walks

City walk
What is the City Walk Programme?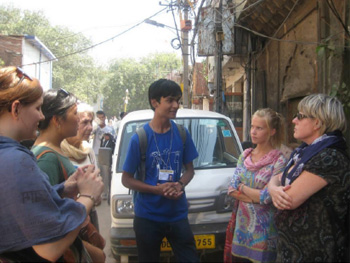 The Salaam Baalak Trust City Walk is an English guided tour of almost 2 hours conducted by kids who used to live in the streets of Delhi before joining our Trust. Our guides are adolescents who have been fully trained as local guidea and who want to improve their communication and speaking skills. City Walk gets the children's stories heard, gives people a view of their world through their eyes. Those who take the City Walk tour through the streets of inner city of Paharganj and the area around New Delhi railway station, led by a child who was once living and working on the streets will experience special tour far from the tourist main attractions. City Walk is an example of how a volunteer's creativity can translate into a unique and enduring programme, which is both popular and economically viable. Over the last seven years, thousands have taken the Walk and empowered a number of children, helping them to join mainstream life.
Our trailers
For a first impression, you can view the trailers we made:
"These walks are run by a NGO that works with former street kids, providing them with shelter and education. The tour guides are former street kids themselves. We opted for a private tour as we were too late for the group tour. The NGO was very flexible, providing us with a one hour rather than two hour tour (as my mother was very tired) and the guides were very knowledgeable, upbeat and funny. The tour was very worthwhile in itself so all the more when it is for a good cause. Will definitely recommend!"

Cheah McGeough, Oxfordshire, United Kingdom, November 2014 (Tripadvisor review)

"I found our time in India extremely disturbing. We travel and stayed in the ultimate in luxury while it seemed that so many of the Indian citizens were suffering and it made me feel powerless. This wonderful organization gave me hope that maybe slowly things can change. You must do this It is a good amount of walking and it's not "fun" but it is too important not so see and do. Our guide was the sweetest young man and just an inspiration. If you can bring pencils, notebooks, crayons, erasers and sharpeners. They can use all the supplies they can get and if you go or not it is a very worthwhile cause to make a donation too."

Annie, New York City, New York, August 2014 (Tripadvisor review)

"That's not a tour to show you some tourist places like other tours, this tour is special. You see places where the organisation works with the street kids, show and explain you, how they earn money, show you the school and the house where some ex-street-kids can live. Your guide also was a street kid before, so he knows what he's talking about... If you expect to see tourist places, take a tourist tour! For everybody else it's great!"

Anastasia, Hof, Germany, September 2013 (Tripadvisor review)
For more reviews, please follow the link on our Tripadvisor webpage



For pictures, please follow the link on our Flickr webpage



You want to know more about our guides? Please follow this link to view their profiles

.